TachoDeta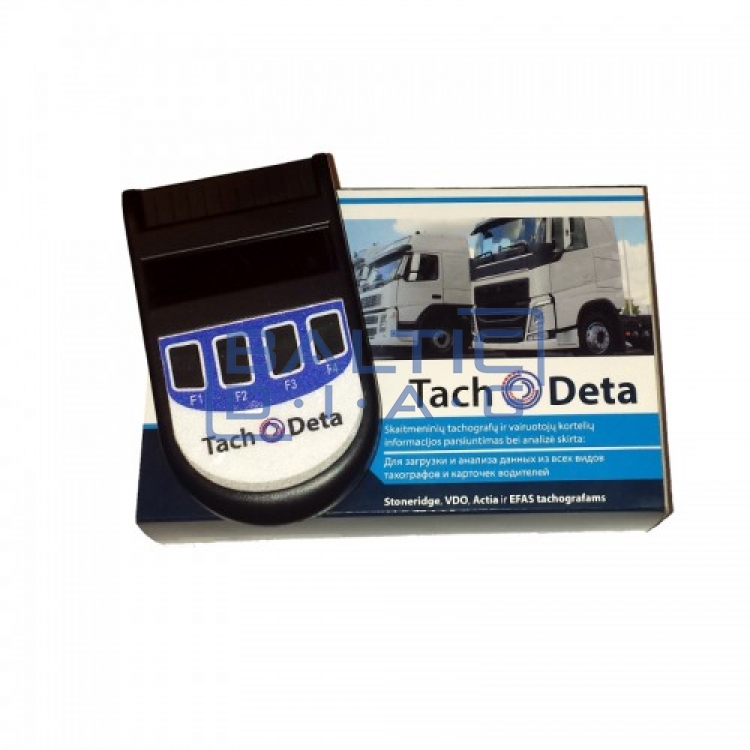 TachoDeta
Prices shown include tax
Description
TachoDeta is a next generation professional device for downloading, analyzing and archiving data from digital tachograph and driver card.
Software configurations:
1. TachoData: Download from driver card and tachograph mass storage, device configuration
2. TachoData: download of mandatory data from driver cards and digital tachograph, vehicle and driver database
3. TachData: Designed to control institutions.
Advantages:
* Compatible with all approved digital tachographs
* Built-in driver card reader (full card reading takes about 1 minute)
* Intuitive, include TACHOMATT Yellow Light software and TD configurator
* Automatic malware removal feature
* Wireless Report Printing (Bluetooth Function) **
* Wireless data transfer to mobile phones or computers (Bluetooth) **
* Power supply: Built-in Li-Polymer battery, Tachograph 12 / 24V, USB connector
* Charging: USB PC, External Charger
* 512 MB memory
* Fast USB connection (no additional PC drivers required)
* Ergonomic, lightweight, durable plastic body.
Kit includes:
* A cable to connect to the front of the tachograph
* B cable to connect to USB port on PC
Enables legal requirements for sending and storing data from digital tachographs and driver card. TACHOMATT Yellow Light allows the user to view driver activity data for the last 28 days, work schedule, check downloaded data as well as analyze it.
Warranty: 12 months
Data analysis program DETASOFT v4.2
You want to additionally read the work modes, such as: the driver's driving time, his parking time, you want to make trip reports, etc. You need this software. The price depends on tachographs and tractors.
For 1 tachograph: 250 Eur + VAT
up to 5 tachographs: 500 Eur + VAT
up to 10 tachographs: 700 Eur + VAT
up to 20 tachographs: EUR 900 + VAT
up to 50 tachographs: 1150 Eur + VAT
For an unlimited number of tachographs: 1350 Eur + VAT