Spray booth BD-6400
TOP -17 %
Spray booth BD-6400
Prices shown include tax
Description
Spray booth BD-6400
Basic data:
External dimensions: 7000 x 5200 x 3500 mm
Internal dimensions: 6900 x 3900 x 2800 mm
Main door: 3000 x 2705 mm (with handle)
Staff door: 650 x 2000 mm (with handle)
Control unit dimensions: 500 x 200 x 600 mm
Access ramps: 2000 x 620 mm
Chimney dimensions: 275 x 250 x 300 mm

Total power: 15.5 kW; 380V / 50Hz
Walls and ceilings:
50 mm thick EPS foam insulation between steel plates
Available in 70 mm EPS foam insulation or stone wool insulation on request
Floors:
Metal base (galvanized), with two rows of filter trays and ramps
Two rows of galvanized gratings or fully slatted floors (Price does not change)
Heating system:
Burner: Riello G20 (Italian)
Diesel heating system, 1 unit, 200000kcal / h
Diesel consumption: 8 - 18 kg / hour (At positive air temperature)
Heat exchanger (stainless steel), 1 pc.
Reaching the operating temperature of 50 ~ 80 ° C in 5-10 minutes. Ventilation
Gas burner available on request (price increases) and infrared drying system (price does not change)
Filtration system:
Main filter, 1 pc. > 83%
Air inlet filter, 1 pc. > 97%
Air exhaust filter, 1 pc. > 70%
The filtration system can be through the bottom of the chamber, recessed in a pit or on a floor with ramps for entering the chamber (standard version), can be filtered through 3 chamber walls, placed on the floor (costs a little more expensive) and can be filtered through 1 chamber side (costs cheaper).
The fastest filtration is through the floor of the chamber, slightly slower through the sides of the chamber, and slowest through one side.
Air system:
Air intake fans, 2 pcs., Centrifugal with 4 kW motors, capacity: 24000 m3 / h
Exhaust fan, 1 unit, centrifugal with 5.5 kW motor, capacity 18000 m3 / h
Lighting:
Ceiling lamps, 32 pcs. After 16 W, LED
Side lamps, 32 pcs, 16 W each, LED
Control panel:
1 pc., Spray switch, heating switch, light switch, emergency stop, etc.
Electronics CHINA DELIXI production (CHINA DELIXI - a French capital company working with Schneider electric.)
Included:
All equipment, fasteners, sealing means, CE certificate
IMPORTANT. The painting chamber is suitable for cars up to a maximum of 3 tons. If you are planning to do painting work for heavier cars, you need to choose the option where air is sucked through the side walls.
ADDITIONAL EQUIPMENT
Paint chamber pressure protection:
Additional protection in the event of an electric motor, automation failure or excessive pressure or vacuum in the event of an operator error, the paint chamber is disconnected. This will prevent the paint chamber from being damaged when folded, as in the event of an accident leaving only the extraction motor running or a valve failure, a very strong vacuum is created which makes it extremely difficult to open the exit door and endanger the inside worker. folded. This is the most recommended automatic protection for the painting chamber.
Price for installing the painting chamber 250 € + VAT, price for installing separately 300 € + VAT + arrival.
Paint chamber pressure regulation:
In order to paint the part with high quality, the air pressure in the painting chamber, which should be 5 - 20 Pa, is very relevant, because:
When painting at a pressure lower than 0 Pa, dust is drawn from the room.
Painting at pressures higher than 30 Pa may cause air vortices, which also affects the quality of the paintwork.
1 Pa = 0.00001 Bar, it is practically impossible to determine such a low pressure "from the eye", therefore we offer pressure gauges for pressure measurement and a mechanical or electronic method of regulation. Choosing either method also provides benefits and fuel savings during the winter, as airflow can be reduced, resulting in a higher temperature in the painting chamber, and the dampers can be closed at night, so the inside of the painting chamber is not cooled through ducts.
Mechanical adjustment: a pressure gauge with a visible pressure gauge is mounted on the control room of the painting chamber. The pressure is regulated by mechanically adjusting the valves, another operator monitors the pressure in the painting chamber. Valves and pressure gauge required.
Electronic adjustment: a pressure gauge with a visible pressure gauge is mounted on the painting chamber control cabinet. The pressure is regulated by switches or potentiometers. When finished, the shutters close and open automatically when the painting chamber is switched on. Valves, actuators, manometer and control and automation required.
Only manometer with box and connection 190 € + VAT;
Pressure gauge with box and switches / potentiometers and connection to gears and automation (automation components included in the price) 490 € + VAT. This price does not include the installation of valves or actuators and the delivery of cables to the control cabinet;
Valve 190 € + VAT (2pcs required) - We recommend, even without any automation;
Actuators required for electronic valve control:
Actuator without memory (when the painting chamber is turned on, the valves will open to the maximum and will be adjusted with switches) 136 € + VAT (2pcs required);
Actuator with memory (when the painting chamber is switched on, the valves will stand in the same place as adjusted by the potentiometer) 199 € + VAT (2pcs required).
EXAMPLE: In order to control the valves electronically, a pressure gauge with switches, valves and actuators 490 + 2x190 + 2x136 (136 € + VAT or 199 € + VAT) = 1142 € + VAT or 1268 € + VAT is required. This price includes the connection of automation, pressure gauge, but the installation of valves and actuators is included in the installation of overhead lines.
Other accessories
Installation of a timer so that when the drying function is activated, the motors will only start when the shutter is in a completely different position. 170 € + VAT;
The price of the supplement is 120 € + VAT, if electronically controlled valves or pressure protection are installed at the same time.
Drawing of the standard size chamber (location of the ventilation and heating unit can be selected):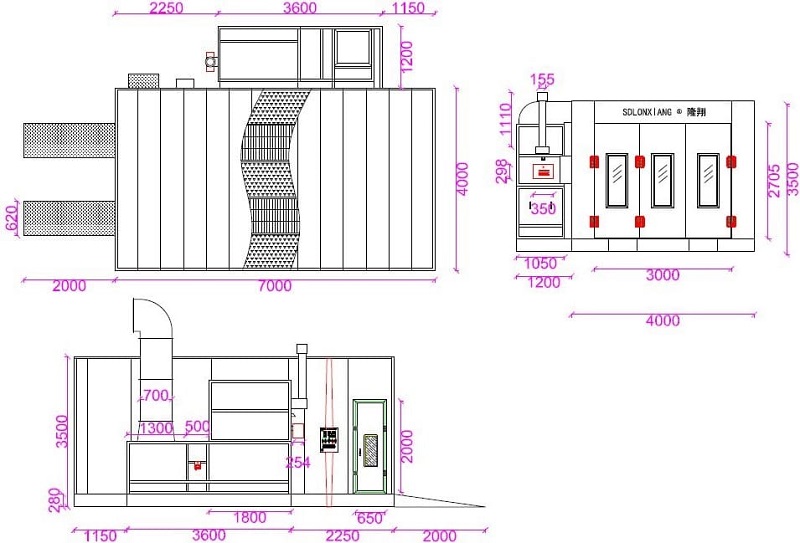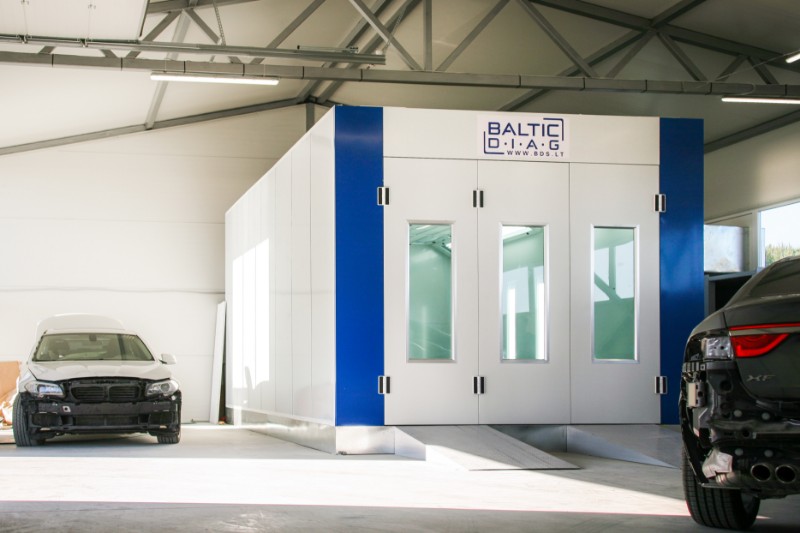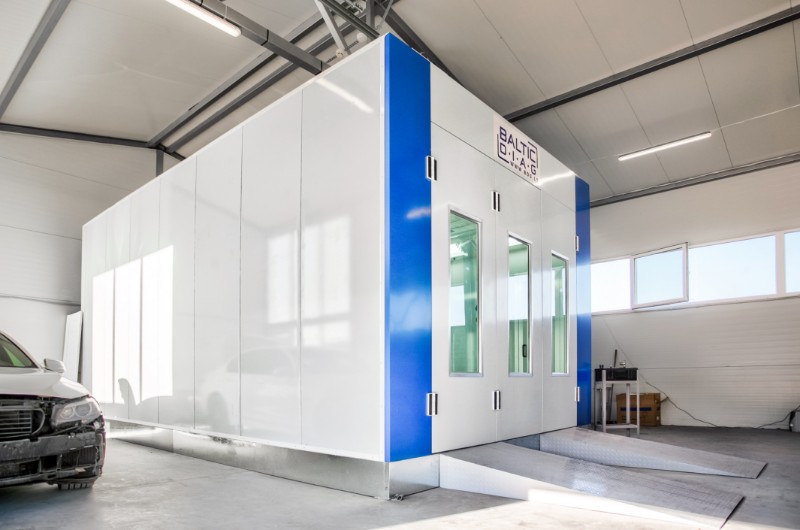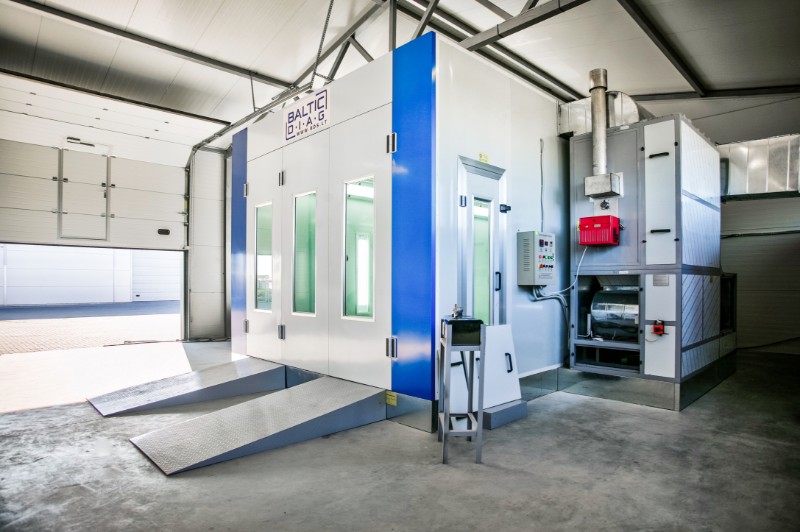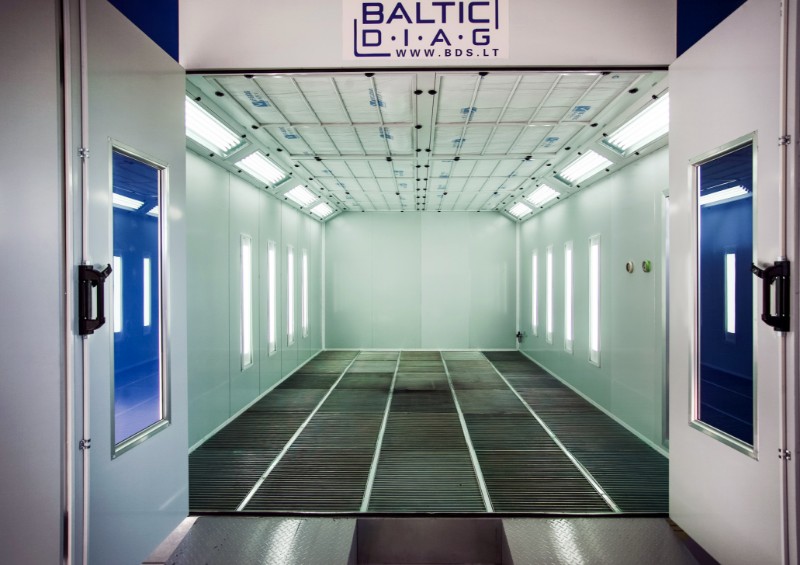 Floor filtration (standard version):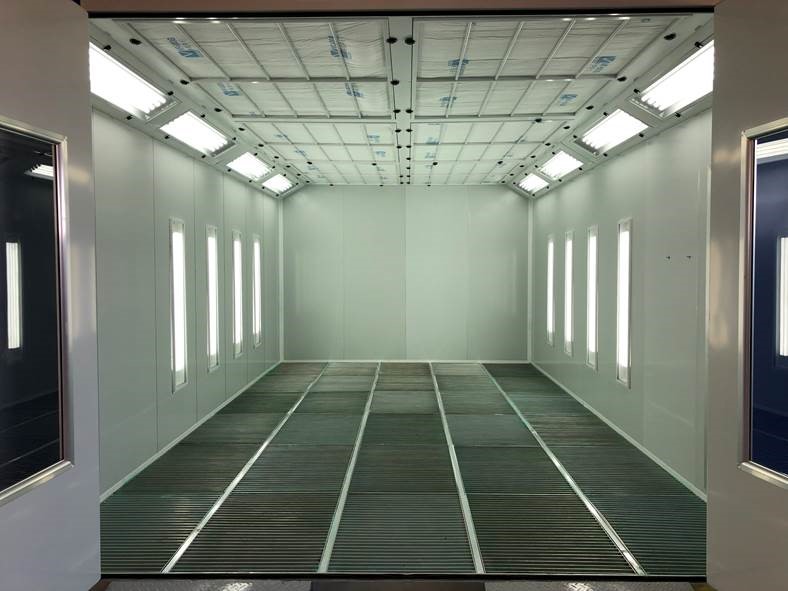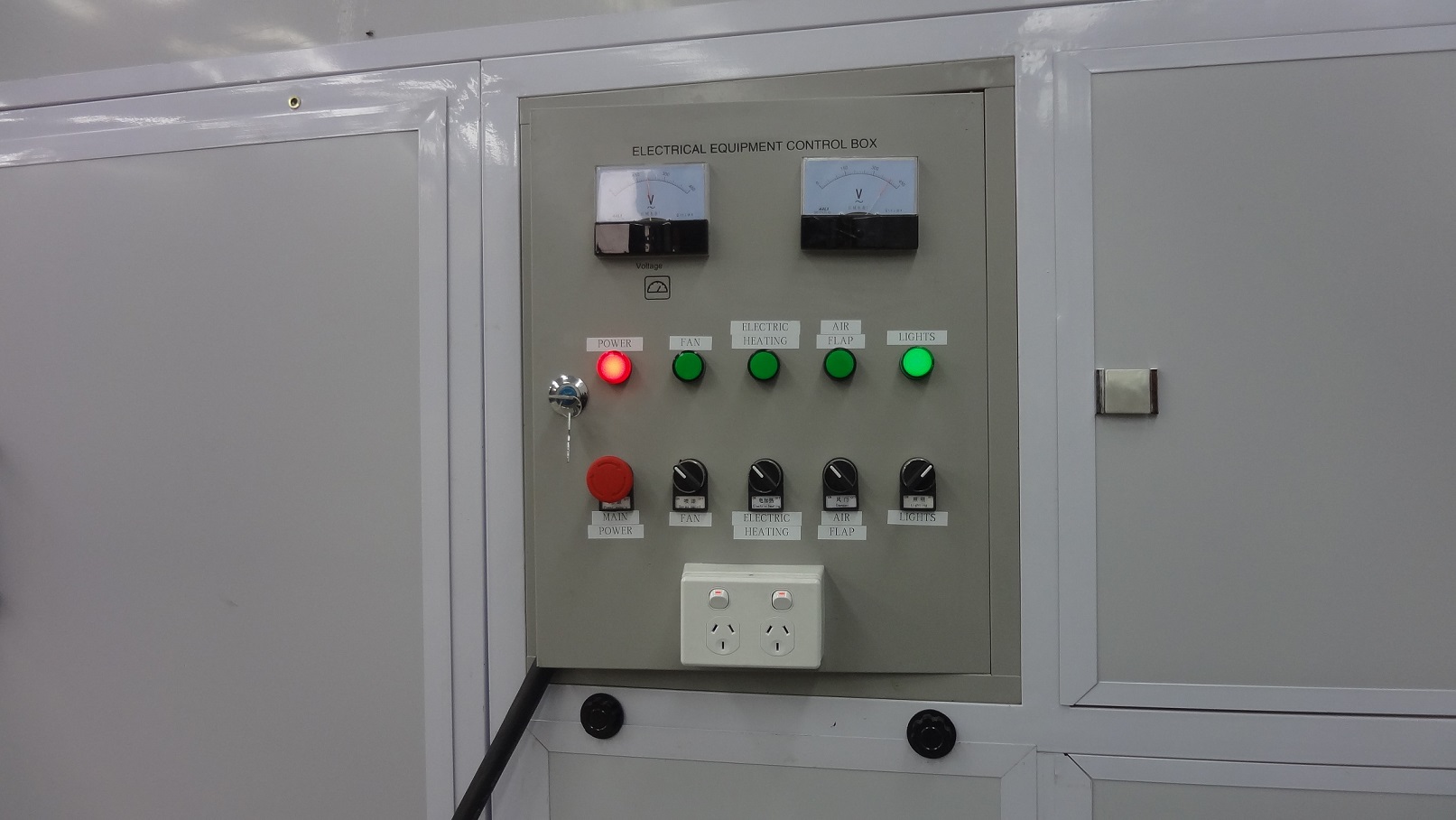 Filtering through 3 walls: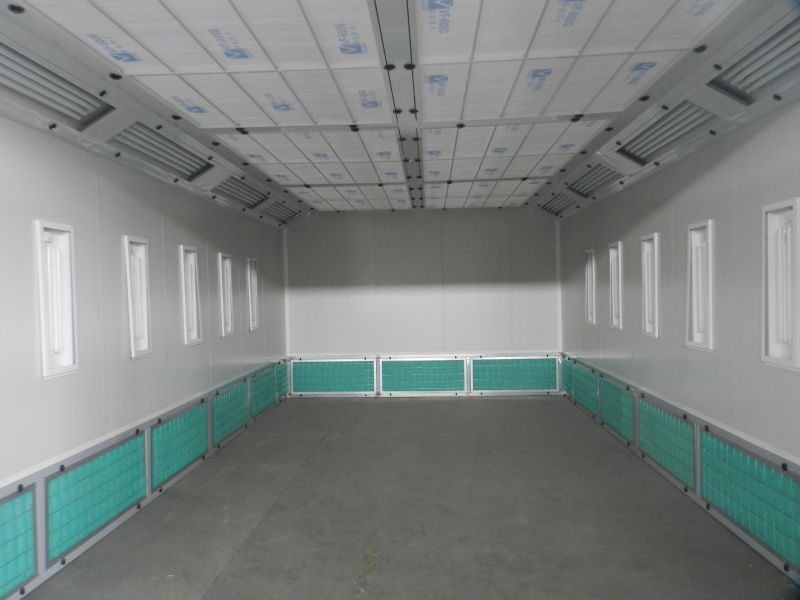 Filtering through 1 wall: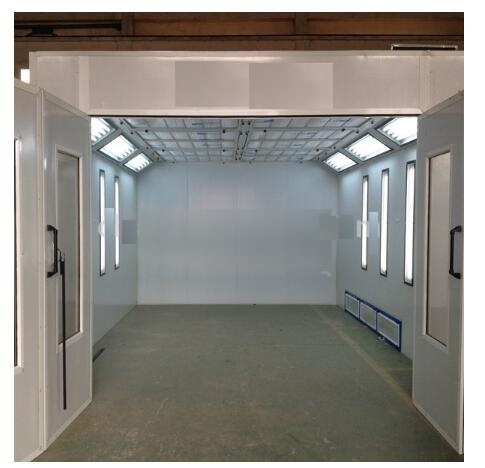 Infrared drying system (10 pcs. In the walls of the dryers, 3 lamps with power: 1 kW / pcs.)