Spot welding equipment GYS gyspot Combi 230 E PRO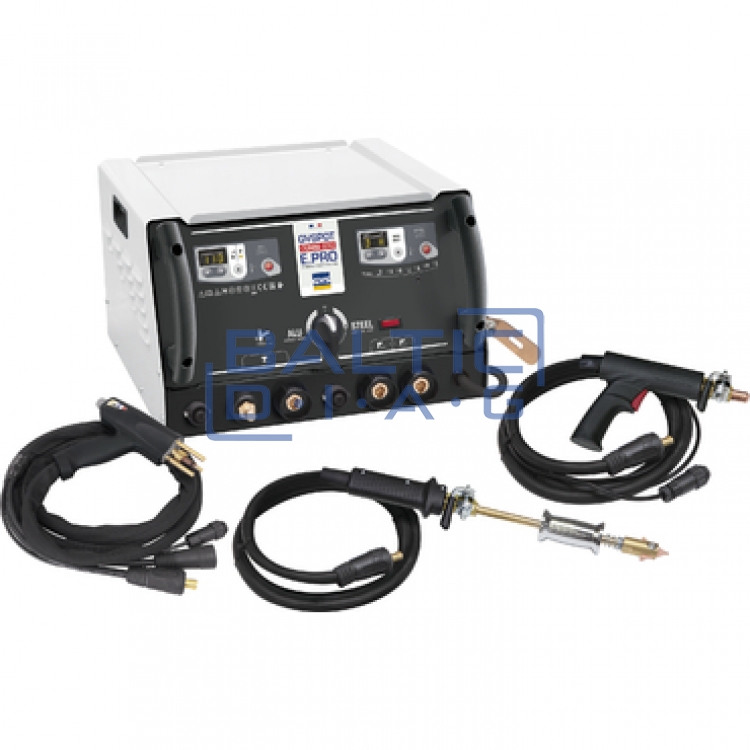 Spot welding equipment GYS gyspot Combi 230 E PRO
Prices shown include tax
Description
Spot welding equipment GYS gyspot Combi 230 E PRO
GYS, France; Warranty: 24 months
Description:
New generation 2 in one dent straightening equipment. The Gyspot Combi 230 E PRO allows straightening of dents with both steel and aluminum car bodies. The new repair process, using single-point and multi-point traction, saves time and thus increases payback. This process does not require any removal or removal of the coating.
Tensile properties of steel:
- It is enough to select 2 parameters: output power level (out of 11 levels); the tool used (out of 7 tools). No need to select welding current or time.
- Automatic gun: welding starts automatically when the head is touched to the workpiece.
- Handgun: welding by pressing the trigger and touching the workpiece.
Aluminum tensile properties:
- Microprocessor control and digital display: adjustable voltage from 50V to 200V (with memory for the last voltage displayed), or power level from 0 to 10; stud detection; double copper ground plate fitted to the rifle.
- Technology: Strong capacitor discharge technology for welding M4 studs to all AlSi and AlMG aluminum sheets.
Technical parameters:
- Power supply: 230V, 50 / 60Hz
- Average current: 3800 A (for steel)
- Maximum current: 3800 A (for steel); 7500 A (for aluminum)
- Synergistic mode: yes
- Voltage: 7.4 V (for steel); 50 - 200 V (for aluminum)
- Fuse: 16A
- Dimensions: 450 x 430 x 290 mm
- Weight: 49.7 kg
- Code: 021266
Equipment:
For steel straightening:
- Ground cable, 2 meters, 70 mm2 with connection
- 2 multifunction pistols (2 meter cables, 70 mm2 cable, with connectors): inertial hammer is used to straighten dents with stars; welding of studs, rivets, rings; contact shrinkage, graphite pencil,
- Full box of accessories and materials used
- Power cable: 8 meters
For aluminum straightening:
- 1 pistol (3 meter cable, 25 mm2 diameter, with connector)
- For welding M4 studs: Aluminum magnesium; aluminum silicon.
- 3 pcs, brass lowering plates adapted to the pistol, for quick and easy contact directly with the straightening part.
- Full box of accessories and used parts.