Battery starter GYS Startpack Truck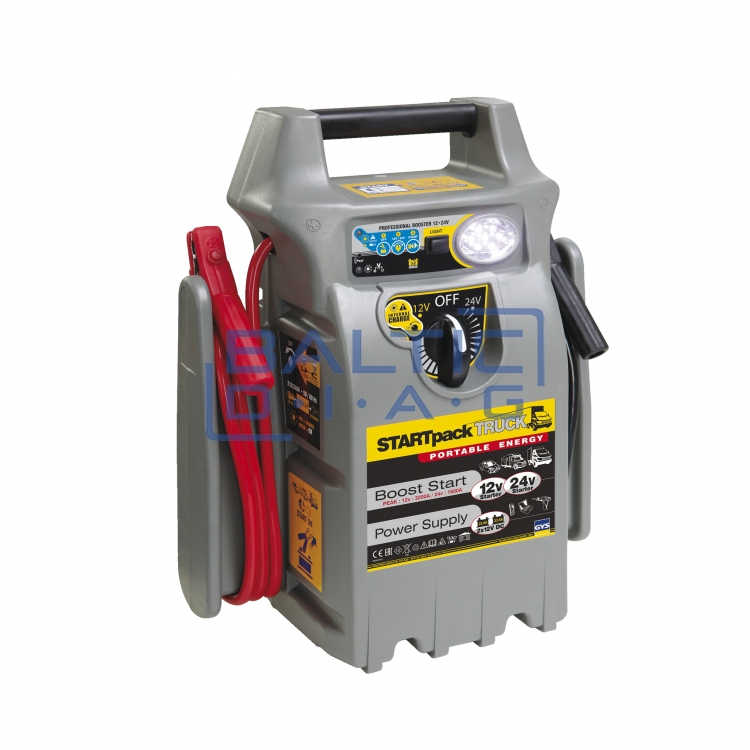 TOP
Battery starter GYS Startpack Truck
Prices shown include tax
Description
GYS STARTPACK Truck battery starter
GYS, France; Warranty: 24 months
Description:
- Two in one: starter and power supply
- Instant launch
- LED bulb
- 12V DC power supply
- STARTPACK TRUCK instantly starts cars, campers, vans, trucks, both diesel and petrol.
- Two integrated 22Ah batteries turn the STARTPACK TRUCK into a very useful portable 12V power supply for many devices: TVs, luminaires, computers, etc.
- Integrated light: suitable for use at night or in low light environments. The LED bulb consists of 7 x 3.6 W bulbs
- Automatic charging 230V / 12V: maintenance of the internal battery without maintenance. Battery charge up to 100%, extending its longevity and efficiency. Can be stored permanently with food.
- Integrated tester, check the internal battery charge level.
- ON / OFF switch to prevent unintentional use.
- Warning signal when poles are mixed.
- Copper cables 2 x 1.30 m, 25 mm2 in diameter with insulated 600A terminals.
- Equipped with easily replaceable external fuse.
Technical parameters:
- Internal battery capacity: 2 x 22 Ah
- Suitable for batteries: 12 - 24V
- Starting current for semi-charged batteries: 750A (12V); 650A (24V)
- Starting current for fully discharged batteries: 1450A (12V); 1300A (24V)
- Maximum current: 3200A (12V); 1600A (24V)
- Fuse: 300A
- Dimensions: 390 x 225 x 500 mm
- Weight: 16 kg
- Code: 025448