Battery starter GYS Startpack Pro 12.24 XL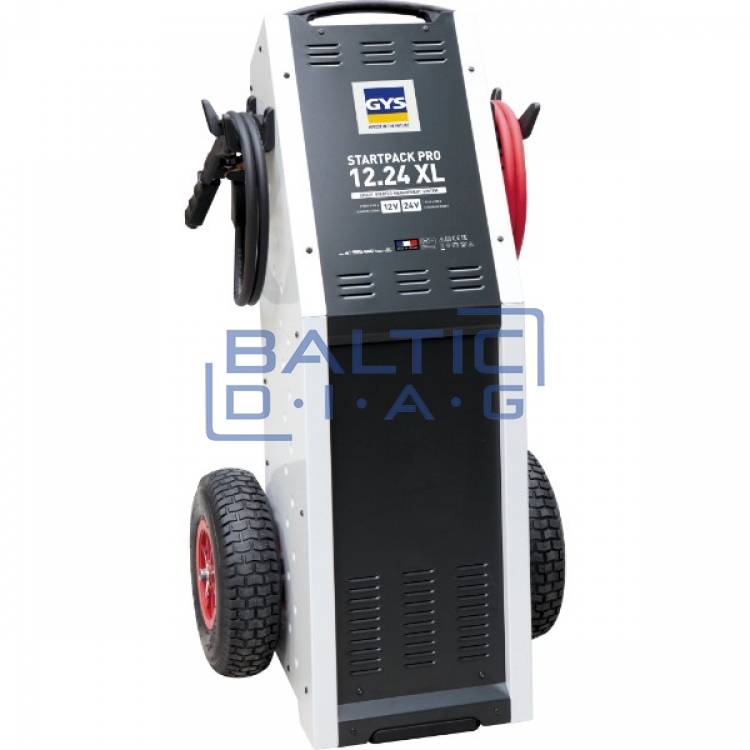 Battery starter GYS Startpack Pro 12.24 XL
Prices shown include tax
Description
Mobile battery launcher GYS Startpack Pro 12-24 XL
GYS, France; Warranty: 24 months
Description:
The Startpack Pro 12-24 XL is an extremely powerful battery-powered starter designed to work with the toughest industrial equipment. Apart from exceptional power, this equipment is also equipped with an advanced protection system, making it the most advanced battery launcher of its kind on the market.
- Integrated 2 x 50 Ah Exide Spiral AGM internal batteries that can be used in any position, allowing the Startpack pro to achieve an extremely high starting current of 8500A.
- Suitable for cars with AGM, EFB, gel, liquid batteries, etc.
- Fully automatic, power is only supplied when the car's ignition is switched on. No need to turn on the device manually.
- Ready for hard work: resistant to shocks and precipitation, so the points are suitable for any situation.
- Large wheels help transport in particularly awkward places
- Startpack pro 12-24 XL battery service equipment is especially recommended for: emergency vehicles, truck repair centers, construction workplaces, agricultural vehicle repair shops, bus or construction machinery depots, etc.
- Intelligent starter control system: with a traditional starter, there is little control over how much power and how much time is fed into the car's battery, usually via a simple switch. Also, the user has to manually select the correct voltage. With the Startpack Pro 12-24 XL Battery Launcher, the device will automatically deliver accurate power. It will also prevent the user from starting the battery if it is damaged or there is a short circuit on the terminals or there is a voltage selection error. This will protect the car's electronics and the user and extend the life of the internal batteries.
- The equipment comes with a 6A gysflash 3.12 XL battery charger that will fully charge the internal batteries in a couple of hours. This charger operates in 8-step advanced mode to ensure the best charge on the internal batteries.
Technical parameters:
- Supported batteries: 12 - 24V
- Internal battery: 2 x 50 Ah
- Starting current for partially discharged batteries: 1600A (12V); 1400A (24V)
- Starting current for fully discharged batteries: 3000A (12V); 2600A (24V)
- Maximum current: 8500A (12V); 4250A (24V)
- Fuse: 300A
- Dimensions: 520 x 430 x 1040 mm
- Weight: 71 kg
- Code: 026711